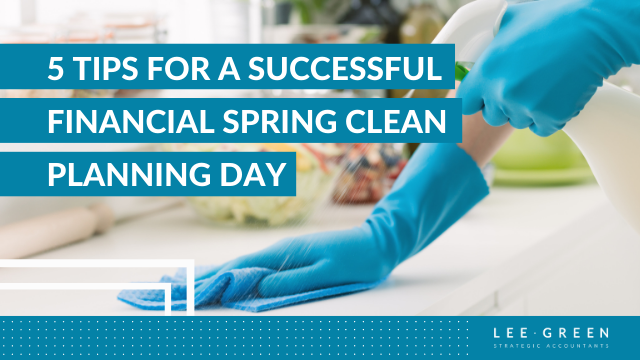 By Ben Spiers, Associate Director.
Everyone talks about spring cleaning their homes, but do you also spring clean your business?
Spring cleaning your business is a great way to refresh and reset, to enable you to refocus and push through to Christmas and set a plan for 2022. It's also a great way to bring your team together socially, as well as ensure everyone in the business is working towards the same goals.
One of the best ways to do this is to have a strategy or planning day for your team. Depending on the size of your team, this might just be the leadership or management team or it might include all staff. At Lee Green, we choose to include all staff in our planning days as all staff have an important role and getting feedback from all areas of the business is useful in identifying issues as well as opportunities.
Here's our top 5 tips for a successful planning day;
Who:
Try and get as many staff involved as possible. The best opportunities and ideas are formed from collaboration and often these come from the people that you least expect. Everyone in your business views success from a different point of view and these insights can be useful in helping to set a strategy for the business.
What:
Its important to ensure that you have a clear idea of what you are trying to achieve from a planning day. It might be useful to do an anonymous staff survey a month before the day to get some feedback from staff about any issues that they are having so that you can work out a plan together to address these. Use the day to share wins with your staff, like new clients or successful deals etc. to boost morale. You might discuss the ideal clients you are looking for, if you are looking to target new sectors, or any major changes that you are likely to implement over the next 6 – 12 months, like process, policies, staff recruitment plans, office moves etc.
How:
Planning days can be long and tiresome, so it's important to break it up. Get your most important topics and focus areas out of the way in the morning when everyone is more focused and attentive. Try and utilise the afternoon for a more social less structured task. We like to do a quiz run by our in house quizmaster Desley Edwards, but any team focused games or activities will help to build team collaboration and morale. Things like escape rooms and sporting activities create a bit of office rivalry while getting staff to collaborate. By ending the day like this, staff will look back on the day more favorably than if you sit for 8 hours on business strategy.
Where:
It is preferable to have your planning day away from the office or worksite. This may be difficult depending on your business; however, it is important to step away to enable you to work on the business and not in the business for a day. For essential staff that need to keep the business running, show faith and trust in them that they can continue operations without you there. This is important for both employees and owners.
When:
A full-scale planning day should happen annually, but you would ideally run a smaller version on a more regular basis (perhaps quarterly) with the leadership team to facilitate the progression of any goals. To minimise business interruption, schedule the day in a quieter period, however you may find that running the day in a busier period my give staff that extra motivation to push through the busy time.
There is no doubt that finding the time to step back from your business is hard, but there are long term benefits for both owners and employees to do this and look at the big picture and re-find the passion for your business.
If you need a facilitator or guidance in structuring your day, let us know!